This month's memory verse:

"Love never fails."

1 Corinthians 13:8

Check out our Facebook page for exciting updates and important information!


KidZ Church VOLUNTEER TRAINING!
You've seen the slide during announcements!
You've heard how much fun Kidz are having!
Now it is
YOUR turn
to be part of the fun!
Be a KidZ Church Volunteer! Come to the training and see how you can help our children grow in God on Sunday mornings!
When: March 1, 1 PM
Where:
In the Gym
RSVP:
Pastor Brian
Don't wait--secure your spot now!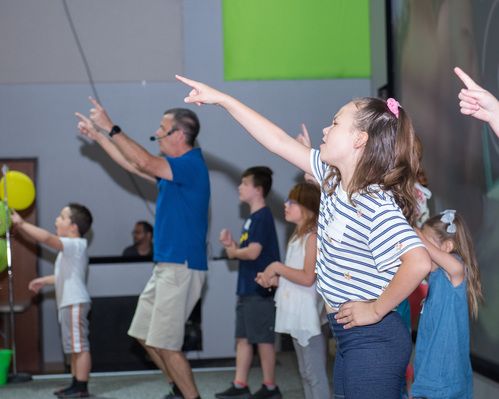 WEEKLY EVENTS FOR CHILDREN
Sundays at 9:15 and 11 AM:
Newborn – PreK Classes: Registration Desk.
KidZ Church (K-6th Grade): Gym.
Wednesday KidZ Praise Team Practice


Praise KidZ worship practice is at 5:30 PM (prior to Superbook Academy). If you are interested in joining our KidZ Praise Team, see Pastor Brian or Sami for details.
Wednesday Bible Study (Superbook Academy)
K-6th Grade Bible Study started back up in August! See below for more information!
Kidz Church is a great way to plant the love of Jesus in your child's life.
It is our goal to provide each child a loving, caring, and fun atmosphere where they can enjoy age-appropriate learning about God's love and His plan for their life.

Please read below for more information on the exciting programs and opportunities for kids at Laurel Ridge.
Preschool
(Birth – Kindergarten)
Bumblebees (newborn-9 months)
Lady Bugs (10-17 months)
Butterflies (18-35 months)
Fireflies (36 months-K )


Sundays @ 9:15 a.m. – Through various games and activities, children interact with adult teachers and other children to learn that Jesus is their friend.


Sundays @ 11 a.m. – We amp it up during the second hour!! We continue to teach preschoolers that God wants to be a part of their everyday life through various multi-media presentations, hands on crafts, Bible stories, and group interaction and games. Preschoolers have so much fun, they usually don't want to go home!
KidZ Church
(Kindergarten – 6th Grade)
Ridge KidZ Church – Sundays @ 9:15 & 11 a.m. (Simultaneous with the adult worship services) We have fun learning about God. This describes the worship that your kindergartener – 6th grader can experience on Sunday mornings. Ridge KidZ is a time of singing, games, multimedia, and so much more. Our goal is to teach your children Godly values, Biblical truths, character qualities, and strong morals. It is high energy with activities, singing, skits, interactive Bible Stories, and life examples.

***JUST FOR KIDS!!!! Each Sunday children earn points for bringing their Bibles, learning their memory verse, bringing friends, doing the take-home lessons and other surprise ways. The points can be redeemed for various prizes in our Prize Vault.
Superbook Academy
(K – 6th Grade)
SUPERBOOK ACADEMY 6:15-8 PMSuperbook Academy is the Wednesday night Bible Study that takes your child through the entire Bible (Genesis – Revelation) in a four-year time frame.
Superbook Academy is open to all K-6th graders and runs concurrently with the school schedule (August through May) each year. Bring the Bible to life for your child with Superbook Academy. This exciting digital curriculum features animated Superbook® Bible adventures and in-depth lesson plans that will challenge your child with engaging, Christ-centered learning experiences. Superbook adventure points to Christ, and how God's plan of salvation is revealed to us. When class is over, the adventure continues for the entire family with free access to explore online games, a daily Bible Challenge, and the Superbook Bible app.
Superbook Academy is $30 for the year.
There is a discount for each additional sibling registered in either group. The cost pays for a t-shirt and materials needed for study, craft, games, and more. Scholarships are available. You and your child are invited to visit and see what it is like before joining.
Click here for more info
, or register and pay by clicking on the green button below.
For more information, contact Pastor Brian Russo at
[email protected]
or 925-625-9500.
If your child(ren) are interested in Superbook but have not yet enrolled for this academic year, the fee is half-priced for the remainder of the year. Use the code HALF when you register.
Special Events for Children!
(Upcoming Events)
SUPERBOOK ACADEMY IS UP AND RUNNING--
register now
!
Superbook Academy
will NOT meet
on the following dates:
March 18 and 25
May 13 is the final night and it is the Parents' Dinner!
CentriKID Camp 2020!!!
Dates are 9 AM June 22 - 3:30 PM June 26, 2020.
Designed for students 3rd - 6th grade, CentriKID is a great week in the Word up at beautiful Jenness Park. Total cost $395, deposit of $100 due at time of registration.
Balance ($295) due at Parent and Student Meeting, 6:15 PM on June 3. Meeting is not mandatory if a student has attended CentriKid before. Meeting is not mandatory if a student has attended CentriKID camp before; however, final payments and all forms are still due by June 3, 2020. Spots are not held until the deposit is paid. Go
here
to register and pay the deposit.